Genius 1 | 1-Amp Battery Charger, Battery Maintainer, and Battery Desulfator
The all-new GENIUS1, one of the most powerful, highest-performing, energy-efficient, and compact chargers yet. The GENIUS1 is a 6-volt and 12-volt battery charger, battery maintainer, and battery desulfator rated at 1-amp for lead-acid automotive, marine, and deep-cycle batteries, including flooded, gel, AGM, and maintenance-free, plus lithium-ion batteries. Battery clamps are included as well as integrated eyelets. The eyelet connectors can be used by removing the battery clamp with a hex key. The battery charger is protected against reversed polarity and is spark-proof. It is also protected against overcharging, open-circuits, short-circuits and overheating. Ultimately a completely automatic charger that will safely take care of all your batteries needs.
The battery charger has 6 modes:
12V Lithium 14,2V for lithium batteries

12V COLD/AGM 14,8V for 12V lead-acid batteries

6V NORM 7,25V for 6V lead-acid batteries

12V NORM 14,5V for 12V lead-acid batteries

FORCE MODE for manually charging batteries all the way down to 0-volts

Stand-by where the battery charger awaits further instructions from the mode button
Summary
Fully automatic battery charger

Compatible with all 6V and 12V batteries, including lithium batteries.

Adapter is connected directly to the power outlet

Designed for continued usage

Auto-Memory returns the last charge mode when connected after a disconnection.

Charge batteries from 1-volt and manually charge batteries with Force-mode all the way down to 0 volts.

Charging current of 2 Amps

Not suitable for 24V Batteries
Specifications
Working Voltage AC: 110–240VAC, 50–60Hz
Charging Voltage: 14,5V, 14,8V AGM, 14,2V Lithium and 7,25V for 6V batteries
Min. Battery voltage: 2.0V
Output Power: 15W
Voltage ripples: <4%
Ambient temperature: -20°C tot +40°C
Compatible Batteries: All 6V and 12V types lead-acid batteries (WET, MF, Ca/Ca and GEL), 12V AGM and 12V Lithium/ LiFePO4 batteries
Battery Capacity: 30Ah
Dimensions: 92 x 59 x 32 mm (L x W x H)
Housing Protection: IP65
Weight: 0,5 kg
Thermal Compensation: yes
Warranty: 3 year Hassle-Free
See the videos below for more information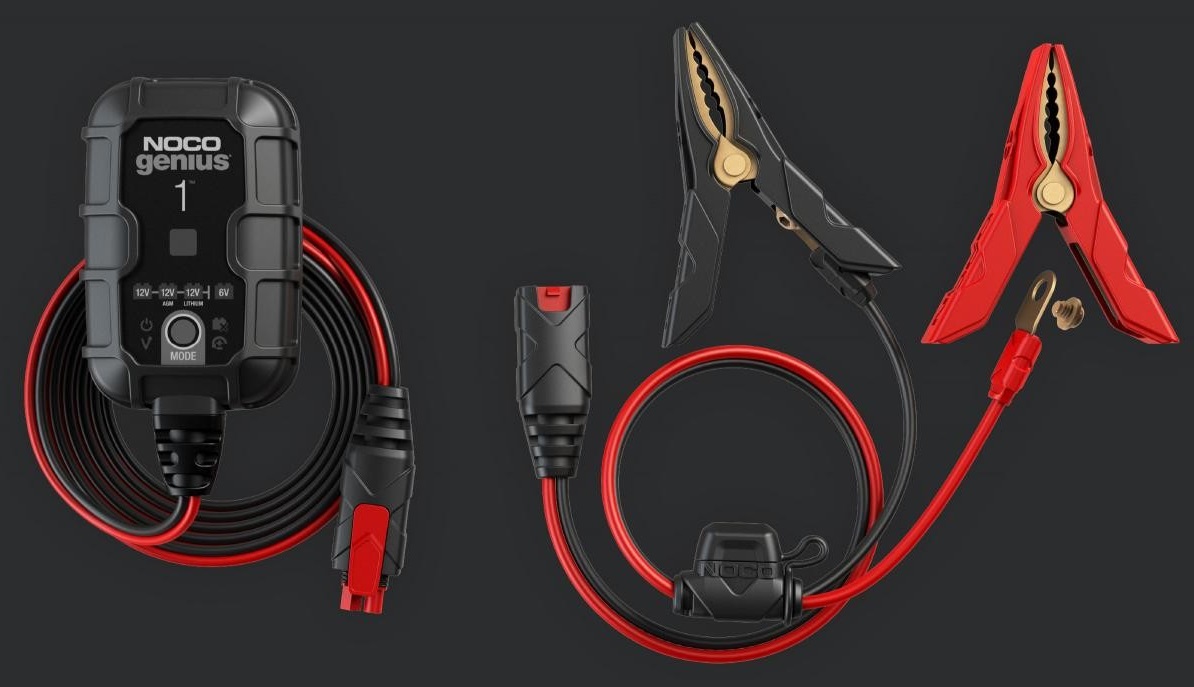 Digital ignition systems.
Our digital ignition systems come with 3 years warranty. Production errors, quality issues and internal problems are covered by this warranty.
The Carmo digital ignition systems are protected against high voltage peaks, defective HT coils and reverse battery connection.
This protection means that the Carmo digital ignition will not be damaged immediately in case of faulty electronics in your motorcycle.
Long term use of a motorcycle with faulty electronics may still result in damage to the Carmo digital ignition system.
This means that without solving the electrical issue the Carmo digital ignition could break down after a while.

If research shows that your Carmo digital ignition was damaged by faulty electrical parts, the warranty rights will not be valid.
If this situation occurs we will attempt to repair your ignition system in order to keep the costs as low as possible.
If the system is beyond repair a new product will be offered at a reduced price.
In all cases we will try our best to offer an acceptable solution.

Testing your original ignition module is free of charge when purchasing one of our replacement systems.
During the test we are often able to find out what caused your original module to break down.
This way you will know for sure if your original module really needs replacement, and you'll be able to solve other electrical issues that may not be known yet.

Team Carmo.

There are currently no questions about this product.