What do we do?: Dashboard Repair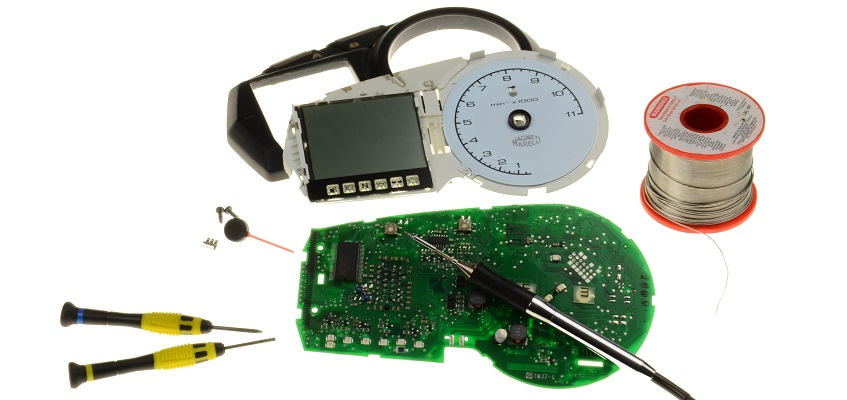 Do you suspect a defect in your dashboard?

We can rule out for you if that's the case by connecting the dashboard on our Carmo-dashboard-simulation device.
This Carmo-device features nearly all the signals that go to ore come from a dashboard on the motorcycle. A small selection is here:
- Speed signal
- Tachometer signal
- Fuel Gauge sensor
- Temperature sensor
- Oil Pressure Sensor
- Blinker lights (turn signals
- Dashboard illumination
- CAN-bus system

In addition, we take in account that some complaints only come to the surface, for example, at high or low temperatures and not always but sometimes.

Measuring is knowing
With the aid of an oscilloscope, we follow the signals on the print and the printed circuit board (PCB) if all signals are correctly processed. If this is not the case, we look which circuit on the circuit board is causing the problem. To ensure that no more components are damaged, the circuit is overhauled with original or improved components.
After the repair / overhaul, the dashboard is tested again for a long time to see if the repair / overhaul was done successfully.

Why repair / overhaul and not a new or used dashboard?
When repairing your dashboard will continue to retain your stored mileage (and eventual stored key codes). In addition, we renew common weak components by better new ones (revision). A new or used dashboard will have the same weak components as your original dashboard. You also get one year warranty on the repair / overhaul and we will tell you what caused the defect, for example overvoltage or moisture. A cause of failure is always stated on the repair form that you will receive with the tested ore repaired / overhauled dashboard, so you may avoid the dashboard becomes defective again!

Key Codes & Mileage
If a repair is not possible and you have purchased a used (or new) dashboard, we are able to copy the odometer (many Italian motorcycles also have key codes) from your original dash to a used or new dashboard, even if the circuit board is broken!
For this we need your defective original dashboard and your used or new dashboard.

Unknown dashboard for us?
If your dashboard is not listed on our website? (See our list HERE) It is not a problem, we do explore unknown dashboards and add then to our test protocol of our Carmo-simulation device.

Test / Repair time?
We try to test and if necessary repair / overhaul everything in three days, it almost always succeeds.