CLICK HERE, for downloading the Key form (PDF)
or as Word document (DOC)


Reprogram red (main) key.
For this price we can reprogram the red chip key for your Yamaha motorcycle.
First your unit will be opened, then it will be reprogrammed and re-potted to create a watertight seal.
After this modification the chip key will work like original, with a working immobilizer system.
Your unit will be ready for shipment within 7 working days.
This service comes with 1 year warranty.
For this service you have to ship several parts to Carmo electronics:
- ECM/ECU unit of your motorcycle and immobilizer ignition switch ring antenna (see picture).
- Copy of the original purchase papers of your motorcycle.
- Copy of identification / driving license.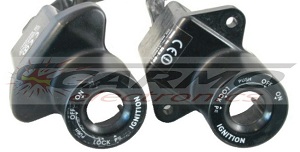 MORIC
model no. 5KS-00 / serial no. 710007
model no. 5VS-00 / serial no. 711259
model no. 5SL-00 / ic: 4966A-5SL00 / 5SL00570070A

Some more information about the red Yamaha key:
The key is electronically linked to the immobilizer.
You canOt just cut a key and use it. The red key is the coding key, and if you lose this one then you canOt recode a new black key to suit your bike.
If the code re-registering key is lost (the one with the red bow), registering new codes in the standard keys is impossible.
The standard black keys can still be used to start the vehicle, however if code re-registering is required (i.e if a new standard key is made or all the keys are lost) you need to send us the ECM/ECU-unit and immobilizer ignition switch ring antenna"
The key(s) is / are not included. After this service you will need to first use the red (master) key to reactivate the system.
(If you have a working black chip key, we can offer another service)

Team-Carmo
Digital ignition systems.
Our digital ignition systems come with 3 years warranty. Production errors, quality issues and internal problems are covered by this warranty.
The Carmo digital ignition systems are protected against high voltage peaks, defective HT coils and reverse battery connection.
This protection means that the Carmo digital ignition will not be damaged immediately in case of faulty electronics in your motorcycle.
Long term use of a motorcycle with faulty electronics may still result in damage to the Carmo digital ignition system.
This means that without solving the electrical issue the Carmo digital ignition could break down after a while.

If research shows that your Carmo digital ignition was damaged by faulty electrical parts, the warranty rights will not be valid.
If this situation occurs we will attempt to repair your ignition system in order to keep the costs as low as possible.
If the system is beyond repair a new product will be offered at a reduced price.
In all cases we will try our best to offer an acceptable solution.

Testing your original ignition module is free of charge when purchasing one of our replacement systems.
During the test we are often able to find out what caused your original module to break down.
This way you will know for sure if your original module really needs replacement, and you'll be able to solve other electrical issues that may not be known yet.

Team Carmo.

There are currently no questions about this product.