10-Amp Battery Charger, Battery Maintainer, and Battery Desulfator

Introducing the all-new GENIUS10, one of our most powerful, highest-performing, energy-efficient, and compact chargers yet. The GENIUS10 is a 6-volt and 12-volt battery charger, battery maintainer, and battery desulfator rated at 10-amp for lead-acid automotive, marine, and deep-cycle batteries, including flooded, gel, AGM, and maintenance-free, plus lithium-ion batteries.
- Meet the GENIUS10 - Similar to our G7200, just better. It's 17% smaller and delivers 115% more power. And it's simpler and easier to use than ever before.
- Do more with Genius - Designed for 6-volt and 12-volt lead-acid automotive, marine, and deep-cycle batteries, including flooded, gel, AGM, and maintenance-free, plus lithium-ion batteries.
- Enjoy precision charging - An integrated thermal sensor detects the ambient temperature and alters the charge to eliminate over-charging in hot climates and under-charging in cold climates.
- Charge dead batteries - Charges dead batteries as low as 1-volt. Or use the all-new Force Mode that allows you to take control and manually begin charging dead batteries down to zero volts.
- Simple to set up and use - Plug-in, connect to the battery, select a charge mode, and start charging your battery. A fully-automatic, worry-free battery charger for year-round use.
- Restore your battery - Detects sulfation and acid stratification and restores lost performance for stronger engine starts and extended battery life.
- Compatible with all types of vehicles - Charge and maintain cars, motorcycles, lawnmowers, ATVs, tractors, trucks, SUVs, boats, classic cars, hot rods, and more - you name it.


Specificatios:
| | | | | |
| --- | --- | --- | --- | --- |
| | Genius 1 | Genius 2 | Genius 5 | Genius 10 |
| Power: | 15W | 30W | 75W | 150W |
| Charge current: | 1A | 2A | 5A | 10A |
| Battery capacity: | 30Ah | 40Ah | 120Ah | 230Ah |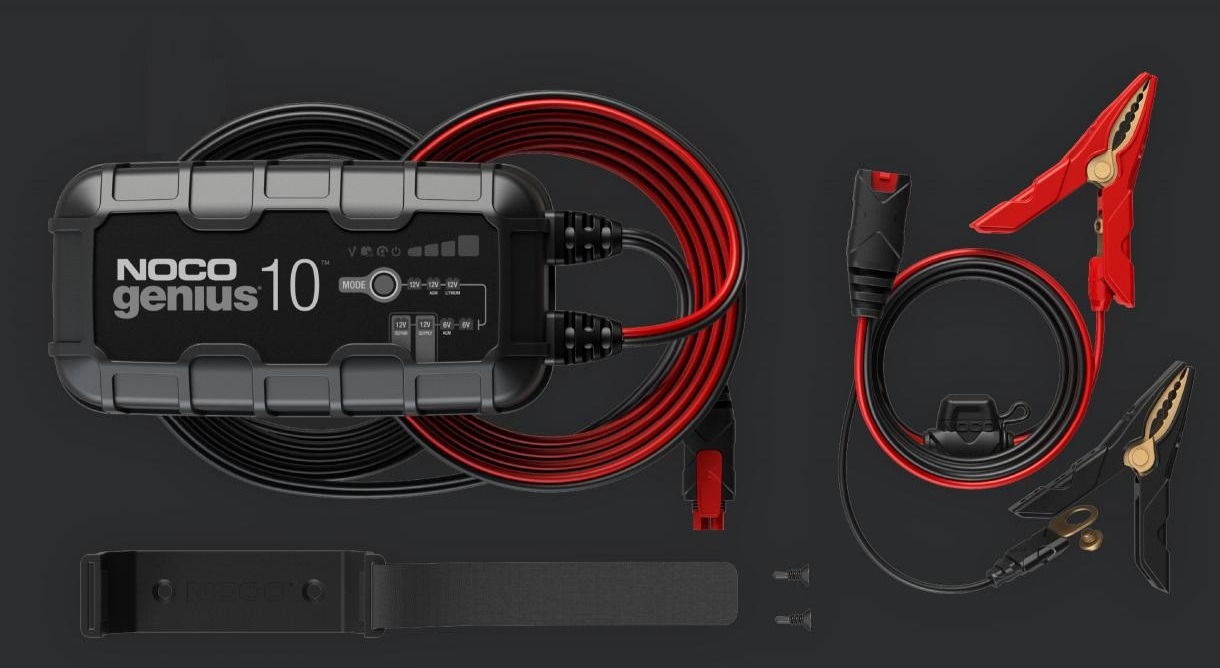 Digital ignition systems.
Our digital ignition systems come with 3 years warranty. Production errors, quality issues and internal problems are covered by this warranty.
The Carmo digital ignition systems are protected against high voltage peaks, defective HT coils and reverse battery connection.
This protection means that the Carmo digital ignition will not be damaged immediately in case of faulty electronics in your motorcycle.
Long term use of a motorcycle with faulty electronics may still result in damage to the Carmo digital ignition system.
This means that without solving the electrical issue the Carmo digital ignition could break down after a while.

If research shows that your Carmo digital ignition was damaged by faulty electrical parts, the warranty rights will not be valid.
If this situation occurs we will attempt to repair your ignition system in order to keep the costs as low as possible.
If the system is beyond repair a new product will be offered at a reduced price.
In all cases we will try our best to offer an acceptable solution.

Testing your original ignition module is free of charge when purchasing one of our replacement systems.
During the test we are often able to find out what caused your original module to break down.
This way you will know for sure if your original module really needs replacement, and you'll be able to solve other electrical issues that may not be known yet.

Team Carmo.

There are currently no questions about this product.